Council Meeting Notes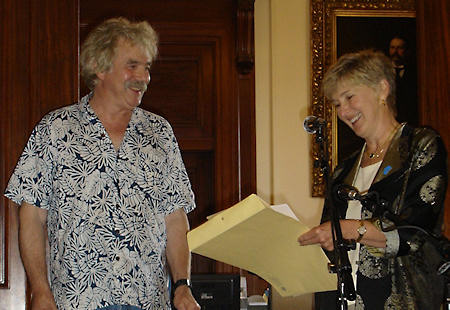 After Council meetings, I would post Notes here, with items I think of interest to our Council District 5.
The Note here is an example, from the last meeting in 2014.
December 3, 2014 Meeting
Department of Transportation
#32 Authorized the Bureau of Rail & Transit to enter into a contract amendment with URS Corporation, Salem NH And San Francisco, CA (originally approved by G&C on 2-6-13, item #75), for a two-part study of the Boston, MA to Concord, NH rail corridor (NH Capitol Corridor), by extending the completion date from December 31, 2014 to March 31, 2015. Effective upon G&C approval. No Additional Funding.
New Hampshire Employment Security
#46 Authorized to enter into a sole source contract amendment with SymbioSys Solutions Inc., Nashua, NH, (originally approved by G&C on 6-22-11, item #60), for modifications and improvements to the NH Unemployment Insurance System, by increasing the amount by $2,460,916 from $11,789,044 to $14,249,960. Effective upon G&C approval through December 31, 2016. 100% Federal Funds.
Department of Corrections
#50 Authorized to exercise an option to extend the current lease agreement with Riverside Properties of Nashua Inc., for the purpose of continued provision of probation/parole district space, by increasing the amount by $140,453.28 from $200,054.88 to $340,508.16. Effective December 19, 2014 through December 18, 2016. 100% General Funds.
Department of Resources and Economic Development
#54 Authorized the Bureau of Trails to enter into Grant-in-Aid Trail Maintenance contracts with the Snowmobile clubs as detailed in letter dated November 17, 2014, for a total amount of $1,665,684.39. Effective upon G&C approval through May 31, 2015. 100% OHRV and Snowmobile Fund. Many of these snowmobile trails are located in District 5 in the western portion of my district.
Department of Environmental Services
#72A Authorized to award grant aid funds to the four entities as detailed in letter dated November 21, 2014, in the aggregate amount of $5,726,857 for wastewater facility projects. Effective upon G&C approval. 100% General Funds. The town of Peterborough will receive $5, 178,230.
The funds being requested are part of a wastewater state aid grant (SAG) program that provides financial assistance in the form of grants to NH communities to off-set the eligible costs of planning, engineering design, and construction costs of certain sewage disposal facilities. Over the term of the debt service, which will range from 5 to 30 years, the state will reimburse the entities for 20% to 30% of the eligible costs incurred during the design and construction of the wastewater facilities plus a proportionate share of interest on borrowing for the project. In addition, some project costs qualify for an additional 10-30% SAG ("SAG Plus") for components related to septage and sludge handling and treatment facilities.
The following people from District Five were nominated by Governor Hassan to State of New Hampshire Boards and Commissions:
Thomas P. Mullins, Peterborough, NH for the Appellate Board
Andrew S. York, Mont Vernon, NH for the Athletic Trainers Governing Board