Executive Councilor, New Hampshire District 5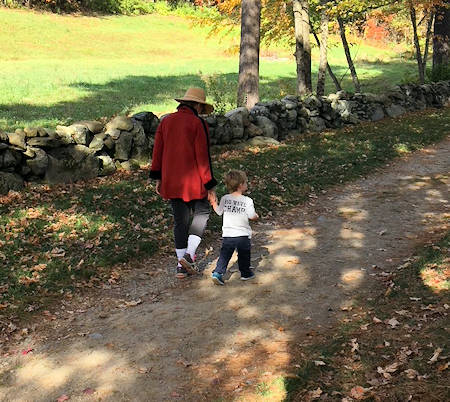 Debora and grandson start a hike in Beaver Brook in Hollis
Greetings, District 5 Residents!
Our last Governor and Council Meeting was October 7. I've posted meeting notes of items I think of interest to our District Five. I hope you find these Meeting Notes helpful as you look at the Executive Council and understand its job in the Executive Branch of New Hampshire State Government.
You will see the list of "Informational Items" on the meeting notes. Please know that I have objected to all this money being spent by the Governor without the advice and consent of the Executive Council. I believe they are unconstitutional expenditures. I might agree with the necessity for some of these CARES expenditures, but it is the Council's Constitutional job to offer advice and consent.
Our next meeting is Wednesday October 21 at 10 a.m. at the Edward Cross Training Center at the National Guard Headquarters in Pembroke. You are welcome to attend but please bring and wear a mask. They will be provided if you do not have one with you. It would be my pleasure to welcome you.
I hope you are all remaining safe and healthy. As always, please feel free to contact me with your thoughts, questions, and suggestions.
---
I'm running for re-election to the Executive Council!
The Executive Council plays an important Constitutional role in New Hampshire government, responsible for approving contracts, State Judges, Agency heads, and more.
I spend a lot of time helping constituents in their interactions with State government. The work does not make the headlines, but I'm especially proud of it.
It's all important work, and I'm happy to have the chance to continue doing it. Thank you so much for your past support, and I welcome your help again!


October 13, 2020