Executive Councilor, New Hampshire District 5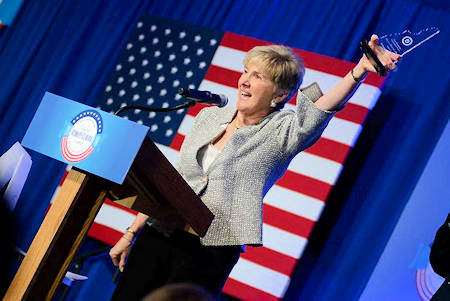 Debora receives the Eleanor Roosevelt Award given by the New Hampshire Democratic Party
Greetings, District 5 Residents!
Our last Governor and Council Meeting was Wednesday August 26. I've posted meeting notes of items I think of interest to our District Five.
During this Council meeting, I asked the Governor for a report on his vetting of candidates for our State Board of Education. You may recall that several months ago, the Governor nominated a person who was not a good fit for this important Board. This individual, a person of color, was not confirmed. The Governor accused several Councilors of "playing politics." Since this was a District 5, my District, seat, I reached out to several people who I believed would add immensely to this Board. Three of these people are women of color. Two other women have also applied, one with a Doctorate Degree in Education. The Governor said that he was not going to appoint anyone until after the election.
I ask, who is playing politics? I think I know.
Also, you'll see that our Governor continues to approve spending without advice and consent of the Council, and I continue to object to what I consider to be an unconstitutional power grab.
The next Governor and Council Meeting will be held on Friday, September 11, 2020 at 10:00 a.m. in Concord, NH.
I hope you are all remaining safe and healthy. As always, please feel free to contact me with your thoughts, questions, and suggestions.
---
I'm running for re-election to the Executive Council!
The Executive Council plays an important Constitutional role in New Hampshire government, responsible for approving contracts, State Judges, Agency heads, and more.
I spend a lot of time helping constituents in their interactions with State government. The work does not make the headlines, but I'm especially proud of it.
It's all important work, and I'm happy to have the chance to continue doing it. Thank you so much for your past support, and I welcome your help again!


August 31, 2020