Former Executive Councilor, New Hampshire District 5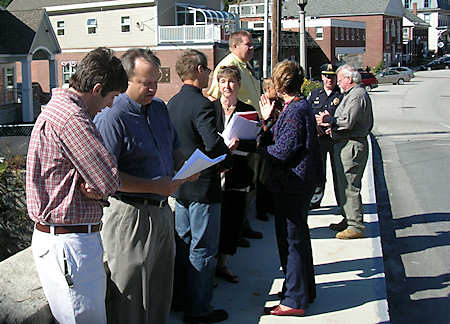 Debora meets with Selectmen, Department of Transportation officials and others to discuss a problem in Peterborough
Greetings District 5 Residents!
It has been a pleasure to serve on the Governor's Council for 8 years. I have always believed government service is an honorable profession. And, I miss it. It has been 6 months since I sat in the District 5 Council seat and these months have given me an opportunity to reflect. I miss the work, that's for sure. I miss interacting with our hard-working and caring Agency heads who do the most for our citizens with the money appropriated by our Legislature. And, I miss the other Councilors, Democratic and Republican. They taught me so much about how they view our state and what we should and should not be doing. They each brought their views and thoughts to the table and we discussed everything in a rational and mostly non-partisan way. I especially miss interactions with our very capable Governor, Maggie Hassan. She has enormous compassion and empathy and is always willing to listen to all arguments.
I wish the Council well in the future. I'll be watching.


June 8, 2015