Efforts and Accomplishments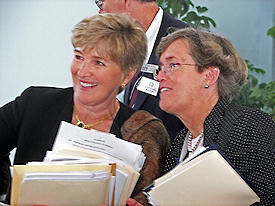 The Executive Council is an important, and little understood, elected body in our State - with its power over appointments and state spending, the Council is involved in most aspects of State Government. Before every meeting, I receive the agenda and background materials for every contract or item. Many times, there are over 300 items on the agenda. As you can imagine, there is a significant amount of reading.
So, there's a lot to do. I've focused on areas that I think can help the most:
Strong Constituent Service - I enjoy helping people resolve legitimate concerns with state government.
Opening Up Government - I created a new policy requiring Public Hearings on nominees to lead our critical state agencies. I send out regular newsletters and emails about Council business.
Assist Cities and Towns with state government issues and problems and made frequent visits to communities throughout District 5.
Support and Vote in Favor of excellent judges for our Supreme Court, Superior Courts and District Courts.
Support and Vote in Favor of excellent people to lead our key state agencies which run our government.
Successfully Worked on a move of the Division of Motor Vehicles office to Exit 6 in Nashua.
Worked on the Temple Mountain State Reservation purchase by the state.