Biography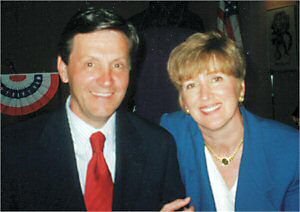 I am a 40 year resident of New Hampshire, living in Nashua.
I have spent 21 years in elected office - 5 years in the House of Representatives, 10 years in the State Senate, and then 6 years on the Governor's Council. While in the State House and the State Senate, I sponsored and advocated for legislative initiatives increasing funding for education, returning state surplus money to cities and towns for property tax relief, establishing anti-stalking laws, funding statewide kindergarten, reforming campaign finance laws, increasing the age for child passenger seat belts from 12 years to 18 years, increasing the cigarette tax to deter children from smoking, enhancing environmental protection, improving the foster care system, bringing a Legal Assistance Office to Nashua, and curbing violent crime, including family violence.
Since my election to the Governor's Council, I have worked hard to minimize the practice of awarding NO BID contracts and retroactive contracts. I have also tried to make sure that the state is getting the best value for services purchased, thereby saving taxpayer money.
I have served as the Chair of the Senate Judiciary Committee, Chair of the Senate Transportation Committee, Vice Chair of the Senate Environment Committee and as a member of many other Senate Committees, including Capital Budget, Health and Human Services, Public Affairs, Rules, Wildlife and Recreation, and Economic Development.
While a State Representative, I served on the Children, Youth and Elderly, and Appropriations Committees.
I served as Assistant Minority Leader in the House of Representatives and as Democratic Whip and Vice President for Policy in the Senate.
I have been designated as one of the ten most powerful women in New Hampshire by New Hampshire Editions Magazine, have received the Meritorious Service Award from the New Hampshire Women's Lobby, the John F. Kennedy Award from the Hillsborough County Democratic Committee and have been awarded the Anita and Norman Freedman Award at 2004 Democratic Convention.
In 2005, I received the William E. Paine, II award for my work preventing domestic and family violence.
I have also received an Award recognizing my excellence in river and watershed conservation from local groups representing dozens of New Hampshire Communities along the Contoocook and North Branch, Lamprey, Lower and Upper Merrimack, and Swift Rivers.
My husband, Mike, and I raised two children, Adam and Ben, who are now grown. Adam is married to Jessica and they recently became parents to Ethan.
Before running for office, I served as the Executive Director of the Nashua Girl's Club, now Girl's, Inc., and the Director of Tenant Services for the Nashua Housing Authority.